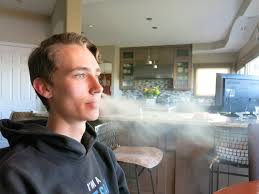 The debate over the health risks of Juul, vaping and e-cigarettes is now spilling into the public square. In one of the most restrictive measures nationwide, San Francisco voters this week upheld by what looks to be a large majority — nearly 70 percent in a preliminary tally — a ban on the sale of flavored vaping products, as well as conventional menthol cigarettes.
Even before that, federal agencies had launched a wave of crackdowns against retailers that sell e-cigarettes, including the popular Juul brand, to minors. Public health advocates and officials worry these sales could be an emerging disaster, reversing years of declines in smoking.
E-cigarettes are tiny — they look like a pen or flash drive. When someone vapes, there's no fire, ash or smoky odor. Instead, the devices heat up and vaporize a liquid or solid. And vaping appears to have taken off among young people.
"Believe it," says 21-year-old Julien Lavandier. "It's a habit for me, you know — all the time when I set down my schoolwork to do homework, take a rip of the Juul. When I get in my car, take a rip of the Juul."
For the full article, click here.