1-800 National Suicide Prevention LifeLine
The Lifeline provides 24/7, free and confidential support for people in distress, prevention and crisis resources for you or your loved ones, and best practices for professionals.
516-227-Talk (8255)!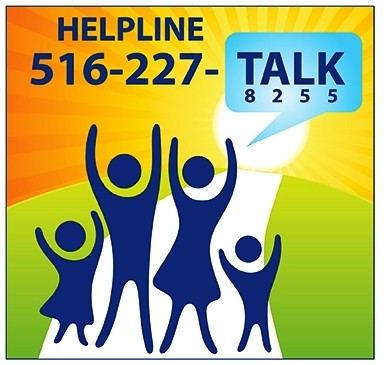 Nassau County's behavioral health helpline/hotline offers consultations, information, and education to callers. The free and confidential service operates as a 24/7 platform for individuals who may feel helpless, hopeless, isolated and in need of direction regarding mental illness and/or addiction. The helpline/hotline also offers assistance to family members impacted by a loved one's challenges.
Dating Violence/Help for Abusive Relationships
Different Kinds of Dating Violence
It's important to note that dating violence can take on different forms. Here are four types (according to the CDC):
Physical – when a person hits, kicks, shoves his or her partner
Psychological/emotional – can include name calling, bullying, and isolation
Sexual – forcing a partner to engage in a sex act when they don't want to; threatening to spread rumors if a partner doesn't want to have sex
Stalking – constant, unwanted harassment
Dating violence also occurs online or by phone, and includes someone repeatedly texting a partner, or even posting a partner's nude photos online.
Is Someone You Know in an Abusive Relationship?
Ask them to get professional help.
National Teen Dating Abuse Helpline: 1-866-331-9474 (you can also chat via the loveisrespect.org website, or text "love is" to 22522 to connect with a peer advocate 24/7)