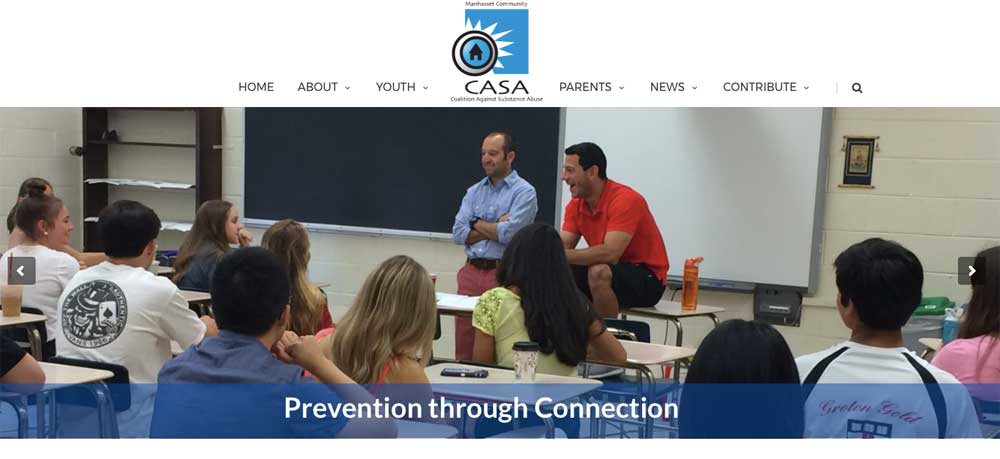 Manhasset CASA announces a redesigned website which provides parents, residents and youth with updated substance misuse prevention resources, videos as well as a new SAFE Homes network to assist parent to parent communication in the prevention of underage drinking.
The innovative site, designed by Nancy Verdi, Hummingbird Web Design of Port Washington, provides access to substance abuse and parent communication experts and tools, from national and state organizations (National Institute on Drug Abuse, DEA, NYSOASAS, etc.) to local partners, the Long Island Council on Alcohol and Drug Dependence, Mothers Against Drunk Driving and Nassau County agencies.  A new tool, SAFE (Support Alcohol Free Environments) Homes, creates a network of parents who share core beliefs concerning the prevention of teenage drug and alcohol use and encourages communication between parents to increase the safety of our teens.

Parent participation is voluntary and the pledge is not a legally binding document.  "When parents sign the pledge, they are simply agreeing to do their best to uphold the points of the pledge to help keep our youth safe, supervised, and drug/alcohol free," stated Jennifer DeSena, Executive Director, Manhasset CASA.  "When your child asks to go to a friend's, you can check the SAFE Homes list to see if the host parents agree with the principles of not allowing underage drinking," noted DeSena.
Parents who sign the pledge are listed on the SAFE Homes page on Manhasset CASA's new website. The pledge includes the following statements:
The use of tobacco, alcohol, or drugs by underage youth will not be permitted or condoned while in our home or on our property.
I agree to provide active supervision at all gatherings of underage youth in my home or on my property. In the event I am unable to supervise a gathering, I will not permit my children to host a gathering at my home.
I encourage communication from other parents who observe my child using alcohol or drugs.
"Our teens need safe, alcohol free environments to socialize in and with parent support, we can ensure their brains and bodies will develop stronger and they can accomplish more during the challenging years of high school," added DeSena. For more information about SAFE Homes or Manhasset CASA's new website go to manhassetcasa.org.