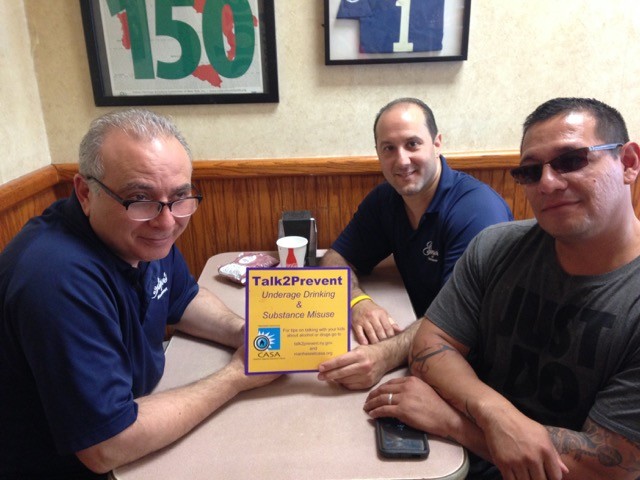 Research shows that children whose parents talk regularly about the dangers of underage drinking are 42% less likely to drink alcohol (New York State Office on Alcoholism and Substance Abuse Services NYSOASAS). In Manhasset, 69.3% of 8th grade students, 66.7% of 10th grade students and 67.6% of 12th grade students talked with at least one parent in the past year about the dangers of tobacco, alcohol, or drug abuse (2017 Bach Harrison Prevention Needs Assessment Survey).
While parent disapproval of underage drinking is the #1 reason kids choose not to drink alcohol, just as important is to give t(w)eens the opportunity to ask questions, and listen to what they have to say. T(w)eens who have parents who listen to their feelings and concerns are more likely to say "no" to alcohol.
Talk2Prevent means connecting with our children early, often and continuing the conversation throughout high school and even college.  Developing open, honest and trusting communication between parent and child is essential to helping them avoid alcohol use:
Encourage conversation – Don't lecture.As parents we want to have "all the answers." Sometimes we are so anxious to share our wisdom or our opinion that we don't take the time to listen.
Listen without interruption– your active listening will start a trend for conversations about topics that concern you.
Ask open-ended questions– avoid questions that have a simple "yes" or "no" answer.
Encourageyour teen to tell you what they think and feel about the issue you're discussing.
Control your emotions– if you hear something you don't like, don't respond with anger. Take a minute and a few deep breaths. Acknowledge your feelings in a constructive way.
Watch your tone of voice and body language.Model what you want your teen to do.
Show respectfor your child's point of view, it will make them more likely to listen to and respect your viewpoint.
The truth is important– if you have a family history of issues with alcohol or drugs, be matter of fact about it, as you would any other chronic disease, such as high blood pressure or diabetes.
Remember to talk to your kids about alcohol advertising.Most messages are especially powerful and influence kids more than you know.
Focus efforts on teaching children what TO do, instead of what NOT to do,and reminding them regularly that the majority of youth do not drink alcohol.
For more information about Manhasset CASA or the Talk2Prevent Campaign, visit manhassetcasa.org and talk2prevent.ny.gov.