Thursday, December 9, 2010 Sector Meeting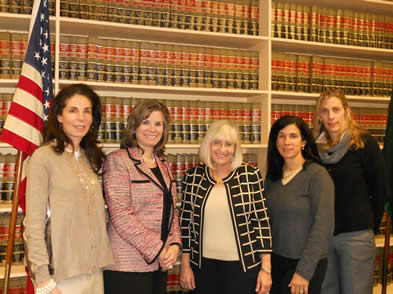 Shown left to right: Randi Pergament, Jericho Schools Coalition; Cathy Samuels, Manhasset CASA Project Director; Judi Bosworth, Nassau County Legislator; Lisa Belinsky, Manhasset CASA Board of Director; Lisbeth Shibley, Manhasset CASA, President & Executive Director.
December 3 - 10, 2010

Barnes & Noble On-line/In-Store Fundraiser
CASA Coffees

Prevention through Connection Television Series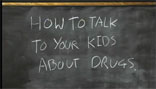 Guiding Your Teen featuring Isabel Burk, Director of The Health Network, a nationally known, award-winning expert on drug prevention, safety policies, and health education issues addresses the importance of family communication and the teen brain.
Saturday, October 23rd from 9:30 – 3:00 pm
Pharmaceutical Take Back Event collects 360 pounds of pharmaceuticals at Manhasset High School (click here for flyer)
Friday, October 22nd at 9:30 am
HS/MS Joint SCA Parent Council
The Teen Brain with Isabel Burk(7-12) at Manhasset High School

Click here for Teen Brain program materials
Wednesday, October 20, 2010 at 9:30 am
SCA Joint K-6 Elementary Parent Council
Parenting for Prevention with Isabel Burke
9:30 am Shelter Rock Elementary School (K-6) & 7:30 pm Manhasset/Great Neck EOC (K-12)
Thursday, September 30, 2010
At North Hempstead Town Hall, Dr. Rickard E Terenzi, Chief, Drug Treatment and Education Center, North Shore University Hospital presented the coalition with an overview of current developments on the teen prescription drug misuse front.  "Misuse of painkillers has become the gateway to heroin abuse on Long Island," Dr. Terenzi said. "The longer we can delay our teenagers from experimenting with alcohol or drugs, the less likely they will develop a substance abuse problem in their lifetime." Dr. Terenzi further discussed the number of studies that have shown how70 percent of youngsters 12 and older who abuse prescription painkillers get them from relatives and friends. Click here to view Dr. Terenzi's powerpoint presentation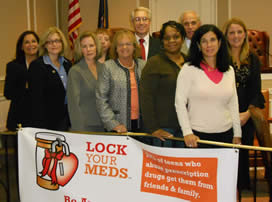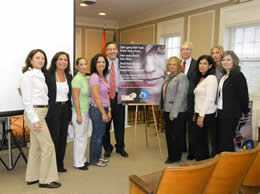 Monday, September 13, 2010
Manhasset CASA is working with the National Family Partnership to initiate its "Lock Your Meds: Be Aware. Don't Share" Prescription Drug Misuse Public Awareness Campaign. 
Summer 2010 Manhasset CASA with NASSAU DA Kathleen Rice delivers PSA to local theatres

Manhasset CASA & Nassau County DA Kathleen Rice worked together to reduce underage drinking and educate parents to Nassau County's Social Host Law. DA Rice appears in CASA's Parent's Who Host Lose the Most Public Service Announcement which aired in local movie theaters this past spring and summer.

Saturday, May 1, 2010 from 10:00pm to 5:00pm Underage Drinking Prevention at the SCA Fair
Manhasset CASA's Executive Board joined the community for the annual Manhasset SCA Fair. Board members were available to discuss with parents and residents the current Parent Who Host Lose the Most: Don't be a Party to Teenage Drinking. It's against the law underage drinking campaign. Members provided free drawing bags and waterbottles along with underage drinking prevention parent education materials.

Left to Right from Manhasset CASA Executive Board of Directors: Lisbeth Shibley, Executive Director & President; Adrianne Halio; and Cindy Cardinal.
Nationally recognized speaker and author, Toren Volkmann, From Binge to Blackout, was the featured speaker for a well attended Town Hall Meeting held in the Manhasset High School Auditorium. Mr. Volkmann told how his youthful underage drinking caught up with his own family to produce life altering consequences.

The meeting provided an overview of the 2009 Bach Harrison Prevention Needs Assessment Survey Results with local experts in the field of law, substance abuse, and insurance available for questions. Attending the meeting was Oscar Michelen, Esq. "The Law Squad", Dr. Jeffrey Reynolds, Executive Director of Long Island Council on Alcoholism and Drug Dependency (LICADD) and Manhasset's Nancy Morris, State Farm Insurance Agent/Owner providing information regarding the health and safety consequences of underage drinking as well as the legal and financial consequences for breaking Nassau County's Social Host Law.
.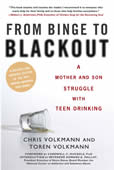 Manhasset CASA partners with Town of North Hempstead Councilwoman Maria-Christina Poons for new Parent Educational Television programming Prevention through Connection. The program features author Toren Volkman, From Binge to Blackout as he tells the story of how his youthful underage drinking caught up with his own family to produce life altering consequences.

Prevention through Connection Television Series

Prevention through Connection Program featuring Toren Volkmann

CASA Social Host Law Fact Card

Town Hall Meeting Slide Presentation

Related Article published by CASA Coalition Partner Anton News
PDF version