Students from Manhasset High School recently joined forces with other teens and scientists from across the United States as part of National Drug Facts Week (NDFW). The week-long national health observance, organized by the National Institute on Drug Abuse (NIDA), part of the National Institutes of Health, was celebrated from Monday, January 28th through Sunday, February 3rd. Teens organized the initiative that celebrated the inquisitive minds of teens by giving them a space (virtual or physical) to ask questions about drugs and to get scientific answers from experts.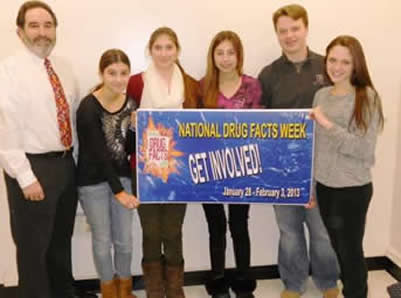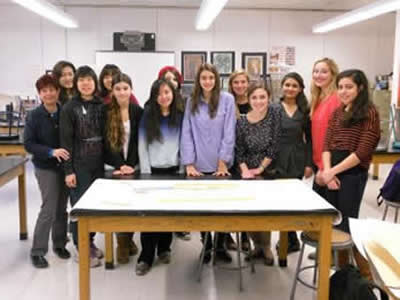 As part of this national observance, National Drugs Facts CHAT Day was held on Thursday, January 31st where students anonymously inputted questions about drugs and alcohol to NIDA scientists, who in turn provided in-depth responses in real-time. Students participated in health and gym classes and computers were also available in the library during students' lunch or free periods.

To promote CHAT Day across the school, CASA Youth Committee Representatives partnered with the Art Honor Society, Key Club and Indian Ink Student Newspaper. Banners and drug facts posters decorated the hallways. "Teens are faced with so many myths about drugs in our music, movies and television that we really need the facts to make healthy decisions," stated CASA Youth Committee Representative Nicole Kiprilov. "CHAT Day gave us a chance to talk openly and honestly with scientists - without judgment," added fellow committee representative Griffin Hyde.

Manhasset CASA Youth Representatives worked across Manhasset High School to engage clubs and other students to "Shatter the Myths" about drug use.Manhasset High School Art Honor Society provided just the right artistic touch to Manhasset High Schools Drug Facts Week Initiative.  Students worked in the early morning hours to develop banners which were hung throughout the school.
About a third of high school seniors across the country report using an illegal drug sometime in the past year, and more than ten percent report non-medical use of a narcotic painkiller. "National Drug Facts Week was a great time for our teens to get honest answers about drugs so they can make good, informed decisions for themselves and share accurate information with friends" stated Mark Sippin, Assistant Principal, Manhasset High School. 
For more information about National Drug Facts Week, go to www.manhassetcasa.org or http://drugfactsweek.drugabuse.gov/

Students from the Key Club, led by Advisor Lauren Majewski, organized Drug Facts Posters that detailed little known facts about substance use and were hung throughout the  hallways.