Friday, December 6, 2013 3:15 p.m.
Manhasset High School Board Room
CASA Youth Committee Meeting
Wednesday, November 20, 2013 1:00 p.m.
Manhasset High School Board Room
CASA PARENT Committee Meeting
Saturday, October 26, 2013 9:00 a.m. - 2:00 p.m.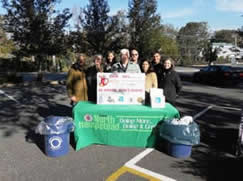 Pharmaceutical Take Back Event disposes of 280 lbs of Pharmaceuticals!
Friday, October 18, 2013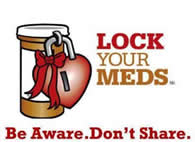 Lock Your Meds on the Radio! CASA, LICADD & Project Independence discuss Lock Your Meds on WCWP Radio 88.1FM! The program provided senior citizens and grandparents with current information about Long Island's prescription drug epidemic, how grandparents have a positive influence in the lives of their grandchildren and how they can Lock their Meds to protect our teens!
October 15 - 18, 2013
Red Ribbon Week Celebration
Thursday, October 10, 2013 9:30 a.m.
Munsey Park & Shelter Rock PARENTS INVITED
Stop Then Send – Internet Safety Presentation at the Munsey Park School
Assistant District Attorney
Chief of the Cyber Crimes Unit
Nassau County District Attorney's Office


Thursday, October 17, 2013
National Above the Influence Day!
Thursday, October 3, 2013 CASA Sector Meeting
Wednesday, September 25, 2013 Kids Safety Day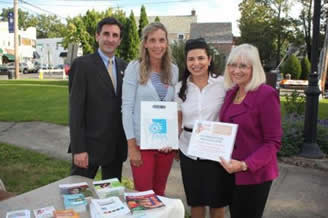 CASA's past Executive Director, Lisbeth Shibley, works with Nassau County Legislators Judi Bosworth and Wayne Wink along with Councilwoman Anna Kaplan to educate families on the dangers of prescription drugs and cyberbullying at the Town of North Hempstead's Annual Kid's Safety Day.
Friday, September 12, 2013
August 15, 2013
Beyond Hangovers: Parents: Have the Pre-College Talk. It Can Make a Difference!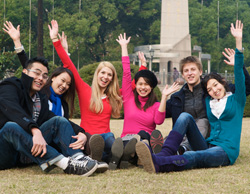 June 17, 2013
Family Checkup Mailing!
Educating parents on how positive parenting prevents underage drinking and drug abuse
Wednesday, June 5 and Thursday, June 6, 2013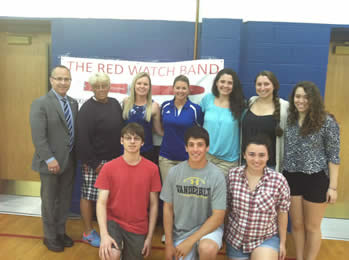 The Class of 2013 participated in Red Watch Band Training as part of the district's commitment to the health, safety and education of students as they prepare to move beyond Manhasset High School!
Thursday, May 16, 2013 CASA Sector Meeting

Manhasset CASA Sector members recently met at Manhasset High School to discuss its Drug Free Communities Grant's goals, objectives and sustainable mission!
Saturday, May 6, 2013 CASA participates at the SCA Fair!
Manhasset CASA Youth Representatives attend SCA Fair providing parent and youth educational resources addressing substance abuse prevention for youth!

Saturday, April 27, 2013 10 a.m. - 2 p.m. National Take Back Event
Manhasset CASA joined with North Shore University Hospital and Nassau County Police in the DEA's National Take Back Initiative encouraging residents to turn in unused or expired medication for safe disposal at Manhasset Collection Sites! CASA's Prevention Education Resources were available at North Shore University Hospital's Manhasset location:
SAMHSA's Talking to your Kids about Prescription Drug Abuse

NIAAA's Harmful Interactions: Mixing Medicines with Alcohol
APRIL 2013 Preventing Underage Drinking In Manhasset

Collaboration helps Students Stay Healthy, Fit and Above the Influence of Tobacco through the Campaign for Tobacco-Free Kids!
Thursday, March 14, 2013 5th Grade Maturation Night
Manhasset CASA provides parents with the resource Make a Difference Talk with Your Child About Alcohol as a guide in trusting their instincts when it comes to providing their child with guidance and support in making life decisions - especially the decision not to use alcohol.
Tuesday, March 12, 2013 6th Grade Maturation Night
Manhasset CASA provides parents with the resources A Parent's Guide to Teen Parties and Underage Drinking Myths vs. Facts encouraging parents to talk with their child about the dangers and risks of underage drinking.
Thursday, March 14, 2013 St. Mary's Gael's Association presented Dr. Stephen Dewey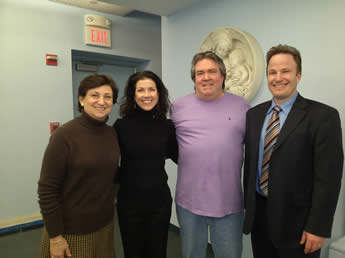 St. Mary's High School Gael's Association continued its Health and Wellness Series and hosted Dr. Stephen Dewey and his The Teen Brain: Still Under Construction Presentation (Click here to view previously recorded presentation at Manhasset High School).
Wednesday, February 6, 2013 10th Grade Parent Night Meeting
Manhasset CASA's 10th Grade Parent Presentation featured the results of Bach Harrison Prevention Needs Assessment Results and discussed the increase of teen alcohol and marijuana use by the 12th grade. Hard copies of Marijuana: Facts Parents Need to Know and Marijuana: Facts for Teens were provided as a resource to help parents initiate the discussion about the dangers of marijuana use.
Thursday, January 31, 2013 at 9:00 am Sector Meeting - Manhasset High School - Board Room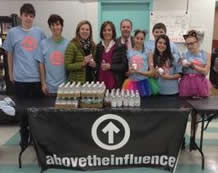 Wednesday, January 9, 2013 8th Grade Parent Night
Manhasset CASA's 8th Grade Parent Presentation featured the results of Bach Harrison Prevention Needs Assessment Results and provided parent resources such as A Parent's Guide to Teen Parties and CASA's Underage Drinking Not a Minor Problem Social Host Law Fact Card. The Manhasset School District emailed all 9th grade parents the Mothers Against Drunk Driving Power of Parents Handbook to help parents talk with their teens about the dangers of underage drinking.